Last Friday, I travelled to Brighton for the popular SEO conference called BrightonSEO. I heard about this biannual event after attending Search Birmingham and SEMrush's client gathering. The event was highly recommended.
Started in 2007 by Kelvin Newman and other SEOs above a pub, the event has grown to over 4,000 attendees from 40 countries! BrightonSEO is held at the Brighton Centre with spectacular views of the Palace Pier and the English Channel. You can apply for a free ticket which is allocated via a ballot. You can also pay for a guaranteed entry ticket and training courses which are delivered the day before the main event.
This article is split into two parts. I will first explore the key takeaways learnt from the speakers before sharing my experiences of the event mechanics such as prepping your day and getting around the venue.
The web is broken!
I was hearing this from many people throughout the day. As we all know, the web is expanding exponentially. Over half the human race are now active internet users and that rate is still growing in other developing countries. I'm sure I can't even guess how many web pages are being created every second let alone every day!
Naturally, the bigger something gets, the more complex it becomes and that leads to additional challenges. Aral Balkan, a digital revolutionary relates this to the transition of the internet where we are connected to computers we don't own. Therefore, companies like Facebook and Google have become 'supernodes' on the internet, reducing our choices by filtering the endless troves of content.
The new deal with Google
Following on from my previous point, Rand Fishkin, the event's keynote, spoke about how the future of SEO is frustratingly within the SERP.
He explains how the amount of searches resulting in no clicks has increased drastically in the last couple of years. Why? Google is now delivering the answers to queries directly without users having to visit any websites.
Try searching for flights, hotels, jobs, events or restaurants on mobile. See all those feeds? Nick Wilsdon was discussing with me about how this adds an additional layer of complexity for search marketers, especially those who work with or for large organisations that depend more on popular search queries.
True there are still plenty of opportunities for niche or long-tail queries such as 'best insurance for flower shops'. It will be interesting to see if this practice expands into other specific SERPs and navigational queries.
Rand explains how we have seen similar behaviour from social media sites prioritising content with no links and other sites like Reddit all who are trying to gain your attention for longer. Naturally the longer you spend on these sites, the more they profit.
Digital Sharecropping
Now that Google is making it more difficult than ever to secure organic acquisitions, Rand highlights how important it is now to make your website and email list the centre of your campaigns. I completely agree and this relates to the notion of 'Digital Sharecropping'.
I first came across this when reading 'Content Warfare' by Ryan Hanley. He argued that if your digital marketing solely depends on third-party sites likes Google, Amazon and Facebook, they will ultimately kill off your business. The reason is that you do not have ownership over these platforms. They change according to their own agenda which may not always benefit you. For example, Facebook has been killing off organic reach over the years.
Being too reliant on Facebook rather than focusing efforts on your own website content or primarily using Amazon rather than your own E-commerce site are some examples of digital sharecropping. The term was coined by Nicholas Carr in 2006. He explains that the more content we create for sites like Facebook and Google, the more valuable they become at our expense and this is exactly what we are seeing.
Rand references this by talking about the deal Google originally had with content creators whereby we let Google crawl our sites and optimise to their standards in exchange for clicks if our content appears in their SERPs.
So what does this all boil down to?
High quality is now more crucial than ever!
Yep. I'm sure you've been hearing this over and over but it's true. The biggest takeaway from BrightonSEO is quality! I really enjoyed listening to the mobile speed talks about reducing your load time to half a second. The technical talks were detailing how to clean up the backend of your website and ensure you are conforming to the highest standards (which of course aligns with Google). The biggest takeaway from the link building talks was how failing to understand the target audiences of publications is the biggest reason why content doesn't get covered.
Ramping up your efforts to create a high-quality site with polished off-site activity is how you are going to ensure your business remains competitive moving forward.
Now I'm going to discuss some of the key points of the event mechanics which will be most useful to those who have not attended BrightonSEO before.
Getting into the venue
There are two entrances, one for those who received their badges earlier and the other for those who need to collect their badges at the door. Be warned, the queue for those who already have their badges can get mega! Turn up earlier than you think. If you really want to avoid the queues, it would make sense to request you pick up your badge from the other entrance.
Prepping your timetable
Each slot in the timetable contains three talks. It can be a bit of pain if you think one or two of the talks will not be useful. However, because there is hardly any time in between each talk, it's impractical to switch rooms until the break after all the talks in the slot have been delivered.
My advice is research each talk and the speakers. The event website has short descriptions and speaker social links. You can then weigh up all your options before deciding on which slots to attend before the keynote.
Getting around the venue
There are a lot of people! Trying to get from one end of the Brighton Centre to another can be daunting. Therefore, try to make a dash for the exit once the last talk in the slot has just finished. That way you have a head start to your next room.
I found sitting right at the front gave the best experience. This means you will have to grab your seat early. Rooms fill up quickly closer to the start time. If you paid for a guarantee entry ticket, your wristband will give you access to priority seating although no-one was checking before sitting.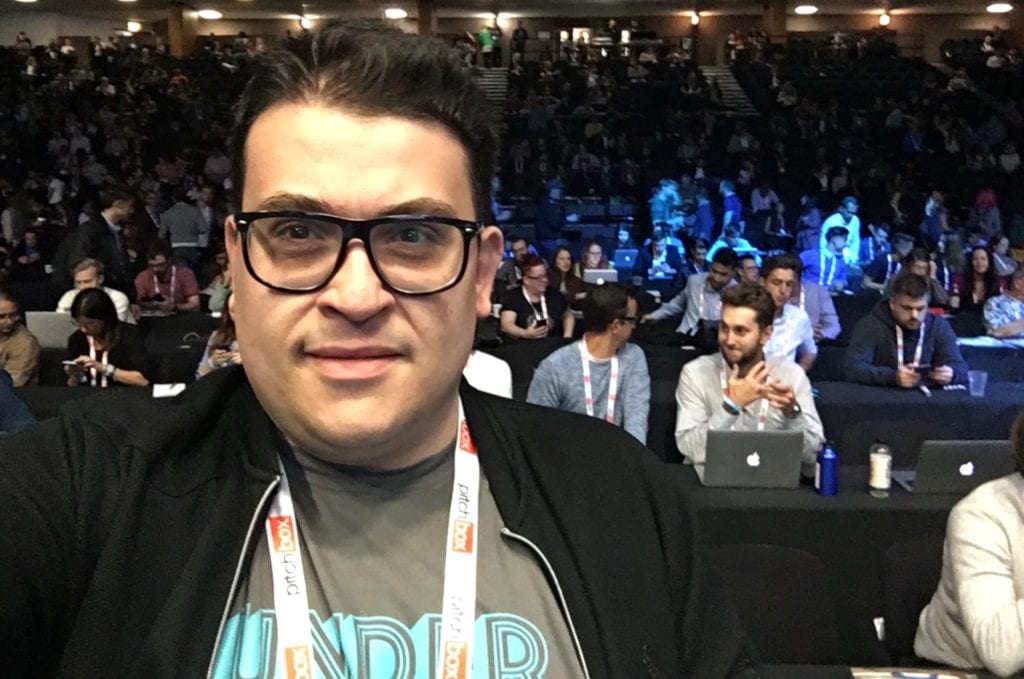 If you are in a group, don't feel like you have to stick together. You are more likely to be agile when moving around on your own. You can always reconvene at lunch and the after party.
Taking it all in
The day is long and you will be exhausted by the end. There's a lot of information to take in. You are given copies of the slides and audio recordings after the event so there's no pressure to take tonnes of notes. I tweeted key pointers that resonated with me throughout each talk. Not only does this give you a bit of exposure with other attendees, but it's also a great way to check back on what you learnt after the event.
Perking up
Coffee for me was the holy grail. Looking back in hindsight, I didn't have time to grab a coffee until lunch but really could have done with a boost in between speaker slots. So I would recommend taking a thermos flask or you can grab small cans of iced coffee from a supermarket in the morning.
Suppliers
Naturally, there are a lot of suppliers exhibiting their wares around the venue. There's a lot of swag and some suppliers were giving out other cool stuff like coffee and juices. Me personally, I was there to listen to speakers. The way I see it, you can always approach suppliers after the event for demos and questions.
Networking and the after party
Get chatting! Meet people! Break the ice! I was introducing myself to those who I sat next to whilst waiting for each talk to begin. Ask people what their specialities are, build affinity with them using your own experiences and stories. Ask questions and get opinions. Connect on LinkedIn. If you are in a group, meet other people outside that boundary. Networking pays off in one way or another!
After the keynote, suppliers start dishing out beers and ale, stick around and get chatting. I ended up talking to one of the speakers who in turn introduced me to other friends. Go to the after party at the Palace Pier. Not only is it a fabulous destination which offers stunning views of the coast and superb sunsets, but you also get to mingle with others who have loosened up after a few brews.
Is BrightonSEO worth attending?
I enjoyed the event and Brighton itself. The sea views and strolling along the pier and promenade is very enjoyable and Brighton does feel like a London-on-the-sea. I walked away feeling inspired and confident knowing what I learnt would influence the development of my skills moving forward.
I paid £100 for the early-bird guaranteed access ticket which they call a 'Friend Ticket'. This got me some really cool swag in advance. Looking back, I think the price I paid was great when comparing to the prices of other conferences especially across the pond.
I was thinking about trying my luck with the free ticket ballot but I really wanted to experience this event after multiple recommendations. Next time, I probably will try for a free ticket but I am also interested in attending other events such as MeasureCamp to broaden my experiences.
Overall I would recommend attending BrightonSEO. If you make new friends at the event or your existing friends are attending then this is a great opportunity to meet up and share experiences justifying a return visit. The same goes if you find the talks to be of value.